Outdoor dining structures for your restaurant patio or deck
Do you have a hidden fortune waiting in your outdoor dining area?  We've helped dozens of cafes and restaurant turn dusty decks and damp courtyards into thriving spaces full of comfortable customers.
Custom built to make the most of your outdoor area and made from quality materials proven to last in our harsh weather.
Popular with restaurants, bars, and cafes. Find out more about how a dining structure can help extend your usable space and attract more customers.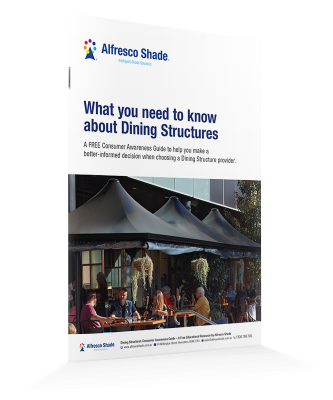 What you need to know about Dining Structures.
Everything you need to make an informed decision on your next project.
Types of Shade Structures
Cantilever Shade Structures
The ever-popular street dining option. Maximum table space undercover with no centre mast to get in the way.
Centre Mast Shade Structures
A timeless classic design. Great for large spaces and budget conscious customers. Popular with restaurants and cafes.
Pavillion
Shade Structures
A good choice for large scale builds. Comfortable customers in any weather.
Patio
Dining Structures
Custom built wall mounted or free-standing options to perfectly match your property.